Results of Poll on Best Move/Worst Move Episode 7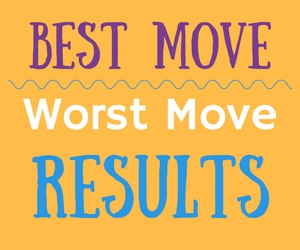 Michael leading his tribe to victory
Michael managed to close the gap between his tribe and Naviti. He made up a lot of slack. Although his competitors also had good moves, (Wendell finding an idol and Kellyn securing a secret advantage – the consequences of these moves yet to be seen), for this episode, Michael wins Best Move!

Bradley pissing off his tribe
We had a huge landslide vote this episode. Although about 8% of votes went to the other two options, Bradley's attitude and behavior unmistakably won the majority of votes as the worst move! With his alliance, it should have been easy for Bradley to make it through this episode, but Bradley dug his own grave.
photo credit: Robert Voets/CBS Entertainment