Episode 13 Poll Results of Best Move/Worst Move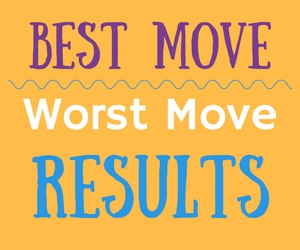 Every Monday, we will be posting the results of our BEST MOVE/WORST MOVE poll from the latest episode. Here's how YOU voted!

Kellyn voting for Donathan
At tribal council, Kellyn threw her vote onto Donathan in order to save herself. Although she ended up getting voted out anyway, she did force a tie initially and nearly escaped the vote. She did the best she could under the circumstances and went out swinging. The poll results were close, with "Wendell supporting Laurel in her immunity win" as a close runner up, but ultimately the former move by Kellyn was voted Best Move last episode.

Donathan spilling his plan to Dom and Wendell
Donathan's initial plan to blindside Wendell was smart, but Donathan started unraveling his game by telling Wendell and Domenick that he doesn't feel comfortable in their alliance anymore. This was voted the Worst Move by players.
Photo screen grab/cbs entertainment