Episode 6: Best Move/Worst Move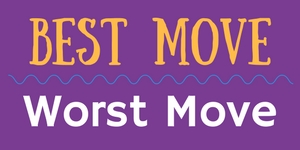 Every Thursday on FSG Blog, we will be posting at least three "Best Moves" and three "Worst Moves" from the latest episode. It's up to YOU to vote for what you consider to be the best and the worst move. If you disagree with the three options for best or worst moves, then select "Other" and then write an explanation in the Comments section below of the move that you consider to be the best or the worst. The results for this poll will be posted every Monday.

Kellyn convincing Angela to stick with Naviti
The edit made it seem that despite James' and Michael's efforts to sway Angela to vote with them, Kellyn's appeal to Angela ultimately prevailed. Kellyn is proving herself once again to be a savvy social player.
Wendell endearing himself to Sebastian
This was a small move, but the fact that it was even included in the episode could indicate that it will pay off later. Similar to how Chris went out of his way to bond with Donathon last week, Wendell kept the shell that Sebastian had collected in order to return it to him because he knew how much the shell meant to him. This demonstrates Wendell's empathy for others, which is an underrated skill in Survivor.
Wendell leading his tribe to victory at the immunity challenge
This was a great week for Wendell. Sure, he forgot the puzzle pieces and lost some time running back to get them, but he managed to lead his tribe effectively through the puzzle section of the challenge to victory. His calm leadership style and impressive puzzle skills make him a valuable asset to his tribe.

Desiree blowing her tribe's lead at the immunity challenge
Although Desiree managed to secure the lead for her tribe early on, she blew that lead when she failed to help her tribe complete the puzzle, which is by far the most crucial section of the challenge. In contrast to Wendell's calm approach, her incessant shouting only confused her blindfolded tribe mates.
Chris being obnoxious and pissing off his tribe
After a strong week in episode 5, Chris went back to being the obnoxious Chris we saw at the beginning of the season. His constant boasting about himself is starting to alienate him from his tribe mates, to the point where Laurel and Jenna are considering voting him off just because he's so difficult to live with.
Angela acting wishy-washy
Although Angela did finally make a decision to stick with her original Naviti alliance, her wishy-washy behavior made her seem untrustworthy to Kellyn and Desiree. Although they needed her vote in this episode, there's no reason they won't cut her loose later if she has already shown herself to be unpredictable and volatile.